Ice shelters, pike zones, internships and more!
Jan. 8, 2020
Stay informed! Here's a weekly summary of upcoming fisheries and habitat management activities, and ways you can discover, explore and experience Minnesota's outdoors.
Need an ice shelter license?
Ever wonder when your ice shelter needs a license? Minnesota fishing regulations recognize two types of shelters: portable and nonportable.
A portable shelter is one that collapses, folds or is disassembled for transportation. Portable shelters only need licenses and identification when left unattended, which is defined as all occupants being more than 200 feet away.
In contrast, all nonportable ice shelters must be licensed. Wheeled fish houses are not considered portable and must be licensed. Get all the details you need on the DNR ice shelter page.
Reminder: pike zone regulations
As you pack those tip-ups or spears in search of northern pike, a reminder: Northern pike zone regulations went into effect in May 2018 and created three distinct zones in the north-central, northeastern and southern parts of the state. You can find specific regulation details on the DNR's northern pike page.
In college? Intern at the DNR!
Help us create a healthy, sustainable, livable Minnesota for future generations.
The DNR has as many as 200 paid summer internships across the state in areas such as fisheries, wildlife, forestry, parks and more. This is your golden opportunity to get hands-on experience in the field of natural resources. Apply now through Friday, Jan. 31.
No Child Left Inside grants
Public entities and nonprofit organizations have until 2 p.m. Thursday, Jan. 9, to apply for funding from the DNR in the second phase of the No Child Left Inside grant program, which supports getting more children outdoors. To learn more, visit the DNR website.
You can buy a walleye stamp
Ever heard about the Minnesota walleye stamp? You don't need it to fish for or keep walleye, but you can opt-in and buy one any time. Dollars from the $5 walleye stamp validation flow into a dedicated account for walleye stocking. For $0.75 more, the DNR will mail you the actual walleye stamp as a collector's item.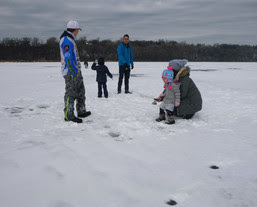 Winter activities this Saturday
Join us at Fort Snelling State Park, right in the Twin Cities metro area, to enjoy some free (park vehicle permit required) winter activities: Try fat biking, tracking, archery, ice fishing and more! We provide the gear and instruction, you bring your warm wear and friends and family.
Ray Ruiz will be providing ice fishing instruction and would like to extend a special invitation to the Latino community: Amigos y amigas, los invito al parque estatal Fort Snelling para aprender a hacer pesca en hielo el sábado 11 de enero de 11 AM a 4 PM. El evento es gratuito, solo precisa el permiso para ingresar al parque ($7/día; $35/año).
Find fishing information
You can find the information you need about learning to fish, regulations, where to fish, aquatic invasive species, contacting a conservation officer and more on the DNR fishing page at mndnr.gov/fishing. And stay safe out there when you're ice fishing. No ice can ever be considered "safe ice," and DNR ice safety guidelines can be found at mndnr.gov/icesafety.